A Personalised Approach for Unmatched Results
Prosthodontist in Kelowna
At the heart of Dr. Kendall James's practice lies a personalised approach that sets him apart from the rest. With a deep understanding of the importance of a patient-centred experience, he uses the latest technology alongside his extensive experience, education, and training to create a truly seamless experience for his patients.
With a keen eye for detail and a patient-first mentality, Dr. James takes the time to understand each patient's unique needs, concerns, and goals. He approaches each case with the same level of care and attention, delivering results that are truly tailored to the individual.
The integration of cutting-edge technology into his practice enables Dr. James to provide the highest level of care, but it's his unwavering commitment to personalisation that sets him apart, elevating the patient experience to a whole new level.
Comfort-focused
Dr. Kendall James prioritises patient comfort in a relaxing environment and works to put patients at ease during every visit.
Board Certified
Trust in the expertise of Dr. Kendall James. With his advanced training and certification, you can be confident in the quality of his treatments and the care you will receive.
State-of-the-art Care
With access to the latest technology and techniques, you can trust that your treatments will be efficient, effective, and personalised to you.
Our treatments aim to
restore

and

enhance

the feel and function of your smile.
Get in Contact with Dr. James Today
Ready to transform your smile? Fill in your details to get the conversation started.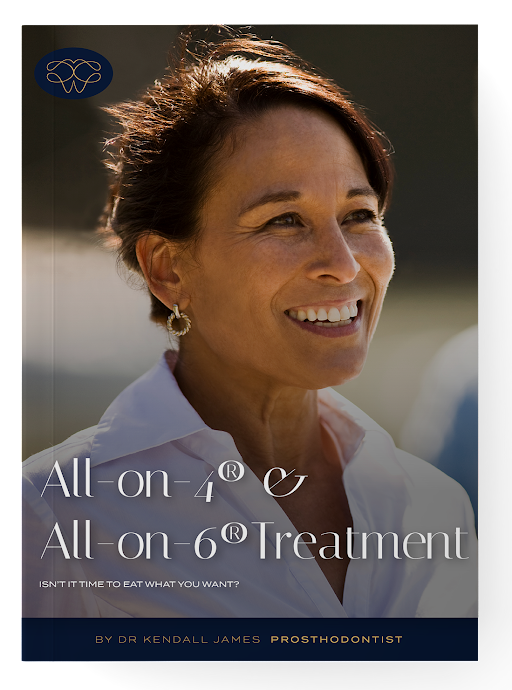 Get ourAll-on-4 & All-on-6 Guide
"Cosmetic Dentist" vs. "Prosthodontist": Understanding the Difference
Here in Canada, the Canadian Dental Association and the provincial dental regulatory bodies do not recognize cosmetic dentistry as a field of dentistry. In fact, in most provinces, it is illegal to say you are a cosmetic dentist. Nevertheless, it is definitely a term commonly used for professionals providing aesthetic procedures within the dental industry.